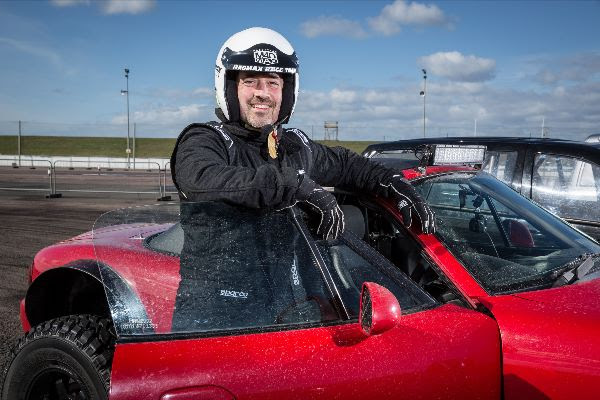 The TV show fronted by Guernsey's multiple world speed record holder, Zef Eisenberg will be launched on Discovery Turbo throughout Latin American from June. 
The 6-part TV series proved such a success when it made its UK debut last Autumn, that it's been snapped up by Discovery Turbo and dubbed into Spanish and Portuguese.

The 'Speed Freaks' TV Show will be available on Discovery Turbo's dedicated motorsports channel, across forty-seven countries in Latin America with an estimated reach of 412 million subscribers.

Zef says "I had high hopes that Speed Freaks would be popular, but never did I imagine that it would launch across Latin America to 412m subscribers."

The series follows the daredevil as he scours the nation to meet fellow 'Speed Freaks'. Whether they've fitted a 24,000cc W12 aero-engine into a car, or built from scratch a full Dakar off-road racer, Eisenberg gets into the mindset, behind the wheel, under the bonnet and in to the saddle of Britain's fastest cars and motorbikes.

Each 60-minute episode features extreme wacky vehicles, major modifications and maxed up tuning, adrenaline-filled racing action, fantastic feats of engineering combined with the lots of laughter, stress and drama. He also challenges his own MADMAX Race Team to take a different vehicle each episode and turn it in to the fastest machine of its kind before he braves life and limb to test it to its full potential.

The knowledge gleaned during the shows also played a crucial part in helping Eisenberg and the MADMAX Race Team to build a crazy 1200hp special road-legal Porsche 911 Turbo to set the all outright speed record at Pendine Sands, beating Idris Elba and Malcom Campbell MBE speed records, reaching speeds of 215mph on sand!

Eisenberg was due to fly to Brazil this month to participate in promotional interviews, but sadly the Covid-19 lock-down has stopped all of that. A new date of Oct/Nov has been planned."

Not one to sit still, it will come as no surprise that since the lockdown Eisenberg has been feeding his own 'need to race' with his extreme Lamborghini tractor, whilst hatching big plans for more record-breaking land speed projects near the end of 2020, when racing commences again.