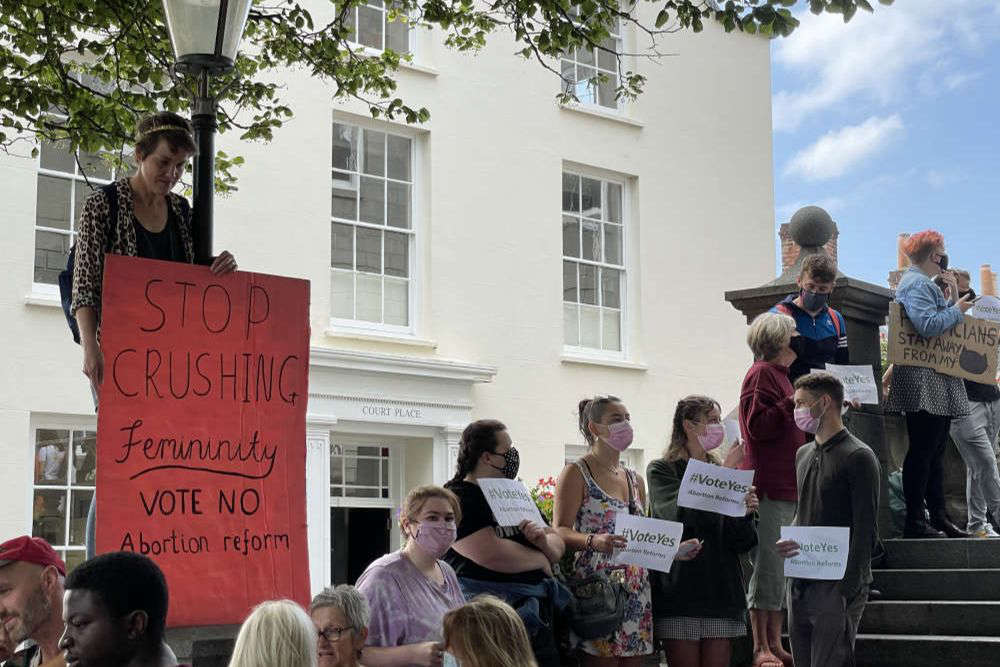 The Island's Assembly votes by 27 votes to 11 in favour of the modernisation
The vote followed the failure of an amendment by Deputy John Gollop who proposed that termination of a pregnancy should only be allowed until 22 weeks rather than 24.
"I have no knowledge of having babies or being a mother so in that sense I am at a disadvantage, and I certainly know that some of the demonstrators yesterday would go as far as to say that men, especially middle-aged, batchelor men should not speak or vote on issues such as this. But, nevertheless, we all have a duty in terms of legislation to be clear about what we want to achieve"
That move lost by 27 votes to 12
There were strong opinions expressed on both sides of the argument and Deputy Steve Falla said he had struggled to accept the proposals:
"What is the value of a life? I don't feel comfortable putting a value on a life, and while I can see that in some circumstances 12 weeks is not a workable timeframe, I just sense that 24 weeks is too late in the gestation process to prevent a life."
Deputy Tina Bury, the Vice-President of Health and Social Care summed up debate and called for the House to ratify the law changes:
"There will always be strong arguments on both sides of this matter. There will always be some that don't accept abortion as an option due to there personal or religious beliefs and I respect that. However, the debate last term and the resulting legislation is not about that. Abortion is legal and is a wholly necessary and highly regulated part of our range of reproductive services in Guernsey.
"If any of my colleagues in the Assembly cannot square abortion in their minds then they have the opportunity to vote against the legislation. But, for any others I would ask them not to be misled that this work has been conducted in anything other than in a robust and thorough manner. It is based on the latest scientific evidence and comes with the overwhelming backing of the medical profession."