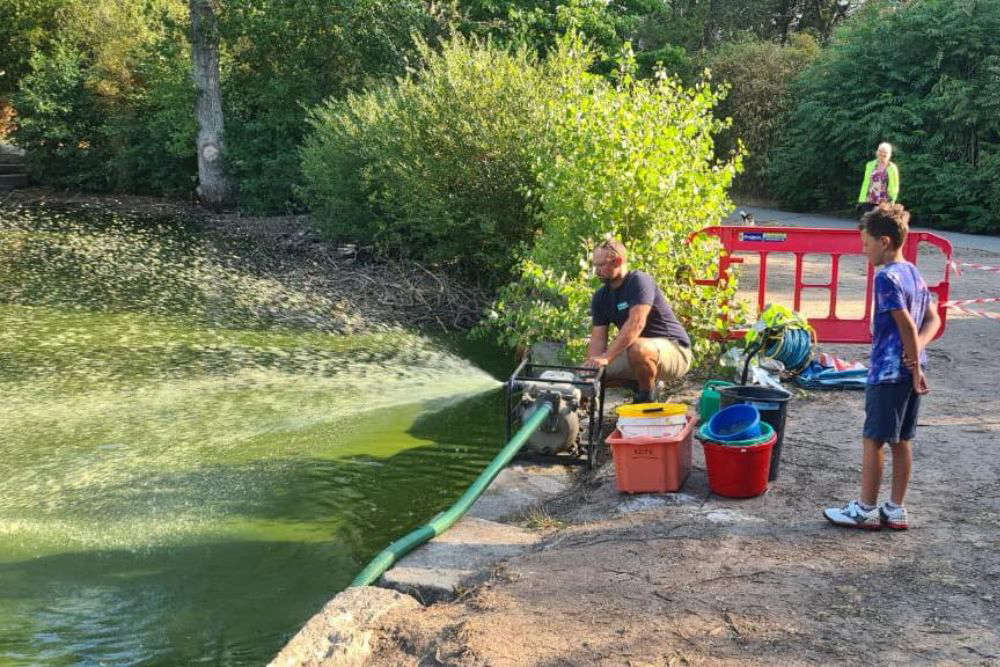 Credit: DW Lloyd
Measures have been taken to stop the fish at Saumarez Park dying in this summer's extreme heat.
Exceptional temperatures have reduced oxygen levels in the pond, and increased the amount of algae growing there.
A specialist company has been helping the States improve conditions.
DW Lloyd offered to assist Agriculture, Countryside and Land Management Services free of charge.
Jim Robinson, Director of Natural Environment, says the firm's expertise is most welcome.
"We're very grateful to them, as this work is more complicated than it may first appear.
For example, disturbing the sediment at the bottom of the pond will make matters worse, but through using their specialist knowledge and experience, oxygen levels in the pond can be increased while avoiding disturbance of this sediment.
Dead fish will also be collected and disposed of safely with the help of the States Veterinary Officers."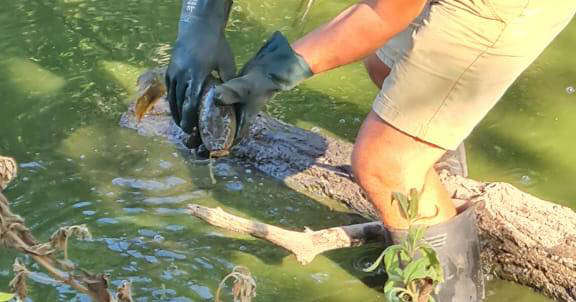 Fish found gasping for air have been moved by hand to deeper water in the hope they will survive
ACLMS had been topping the pond up using tankers of non-drinking water to help alleviate the situation. That will continue in an effort to boost water levels.
Dog-walkers are being asked not to let their pet enter the pond, and islanders shouldn't feed the ducks in the area.
Dan from DW Lloyd says he was shocked to see photos of dead fish in the pond, but he is optimistic his company can prevent further losses.
"My own children love the park and to see the fish dying is upsetting.
The products we are using are from OASE, who are worldwide pond specialists and whom we train and work closely with. The products are not harmful to fish, people, wildlife or livestock. This is not an over-the-counter product, it is specialised for professional use.
We will also be using petrol pumps around the pond to help aerate the water, and this, along with the tankers of water being delivered, should improve the situation quickly."