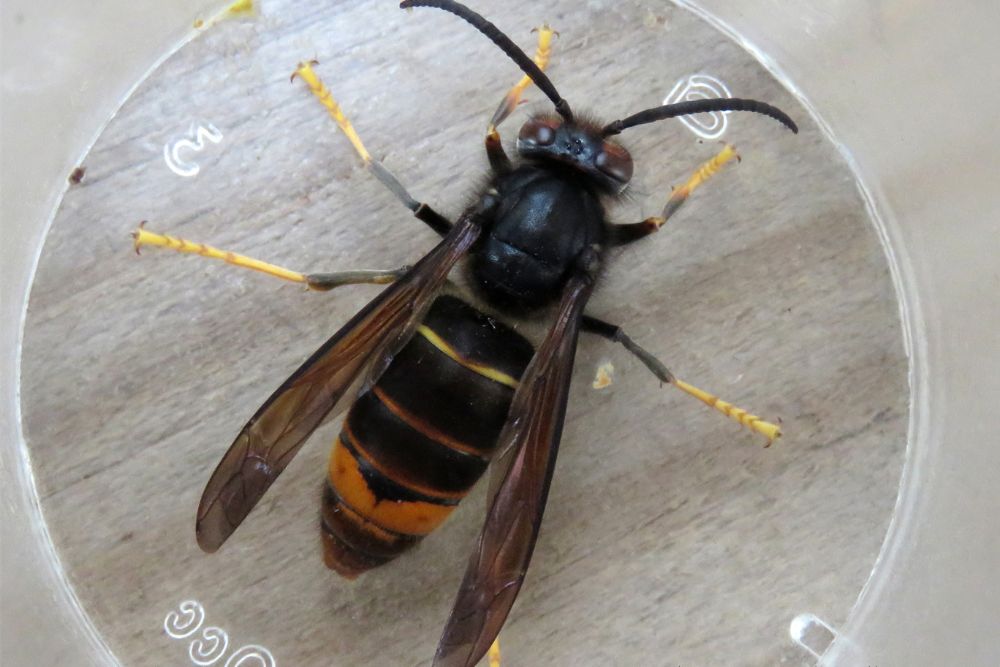 The low number of confirmed sightings 'is good evidence that efforts to control Asian Hornet populations in the Bailiwick are paying off'.
Guernsey's Asian hornet team says it's been a good year for its campaign as very low numbers of the aggressive insect have been found in the island,
The team had six sightings of queen hornets in the spring. Three were captured in people's gardens.
Asian Hornet strategy project coordinator Francis Russell says it is particularly good news that they found no nests in spring and no secondary nests in autumn:
"That's really good news because the secondary nests are where the queens are released for the following season and if we don't have any nests it means we have very few home-grown hornets breeding on the island.
" We had just under 200 reports of sightings of hornets from the public but only six were confirmed as positive Asian Hornet sightings, so that shows the number of false alarms. But that doesn't matter, we are delighted that islanders are taking this seriously and are actively getting involved in our action. I don't mind how many false alarms we get because it means people are engaged in what we are doing."
The first record of the year was a queen found on 14 April in St Peter Port, followed by others in the Vale, St Sampson's, Castel and a late one that turned up in St Saviours on 3 June.
For the second year running, 'Spring Queening' - is a tactic which aims to trap queen hornets either emerging from hibernation or flying in from France - was deployed between April and June. The island-wide trapping was coordinated across the Bailiwick, with 270 traps on Guernsey alone, and all monitored by volunteers.
The 'Track don't Trample' phase of the strategy then took over for the remainder of the year.
Worker hornets are tracked to the location of their large main nest. No hornets were detected during the summer months and 18 weeks elapsed before the final record of the year was confirmed on 5 October, when a suspected queen appeared at Pembroke, presumed to be newly-arrived from France.
This year the Asian Hornet Team also trialled a proactive new approach to tracking worker hornets in the form of sugary bait stations evenly spaced across the island and based on the usual foraging distances that worker hornets will travel from the nest in search of food.
These new bait stations were monitored daily by volunteers but no hornets were reported to have visited them.