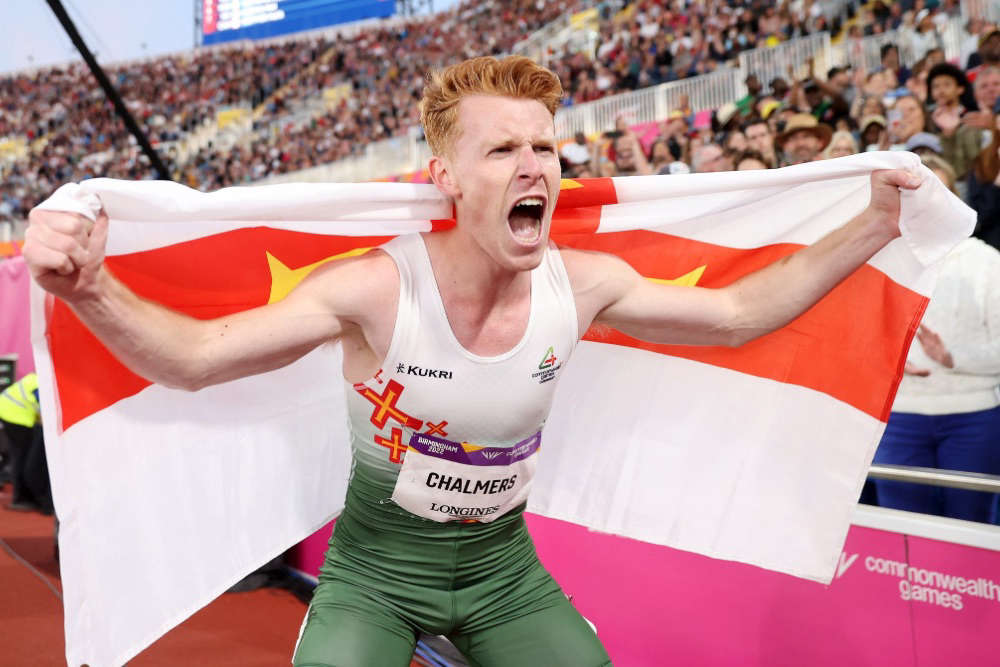 Credit: Birmingham 2022
There has been an outpouring of pride after Guernsey athlete Alastair Chalmers won Commonwealth bronze in the 400m hurdles.
It has been a weekend of celebration after Alastair Chalmers came in third place, taking a bronze medal in the men's 400 Metre Hurdles Final at the Commonwealth Games in Birmingham on Saturday night (6 August).
The result means the 22 year-old has secured the island its first-ever athletics medal at a Commonwealth Games.
THIS is why we all love the Games, isn't it!?

Guernsey win their first ever Commonwealth track-and-field medal, with an unbelievable race from @GsyAla to secure bronze ... and just look what it means!

Bravo, that man! You made HISTORY!#B2022 #CommonwealthGames pic.twitter.com/MMGf02fKWC

— Birmingham 2022 (@birminghamcg22) August 6, 2022
The Guernsey athlete completed the race in 49.97 seconds - right behind Kyron McMaster from the British Virgin Islands (first) and Jaheel Hyde from Jamaica (second).

Alastair described the victory as an 'absolutely unbelievable moment' and says all his dreams have come true.
You'll never see anything like that again. Alastair Chalmers of Team Guernsey storms through the final straight of the 400m Hurdles to take bronze.

Guernsey's first Track & Field #CommonwealthGames medal 🤩 #Guernsey #B2022 pic.twitter.com/Al7GPwxuia

— Birmingham 2022 (@birminghamcg22) August 6, 2022
The stunning achievement has been widely celebrated, across the Bailiwick and beyond.
"I am old enough to remember the exploits of David Hemery in the 400m hurdles in Mexico, so I find it memorable that our Alistair Chalmers, in the same iconic event, won his magnificent bronze medal at the Commonwealth Games. Truly fantastic. What an athlete, what an achievement, we are so proud of him." - Deputy Peter Ferbrache, Guernsey's Chief Minister.
🇬🇬🇬🇬🇬🇬

Huge congratulations to @GsyAla on winning bronze and making history in the men's 400m hurdles at #Birmingham2022 🥉

Alastair, who received SportsAid support from 2018 to 2021, has delivered Guernsey's first ever track and field medal at the Commonwealth Games 🌟 https://t.co/pQMf6K23FM

— SportsAid (@TeamSportsAid) August 7, 2022
The head of Jersey Sport Catriona McAllister extended her congratulations:
Special moment for Guernsey 🇬🇬. Bravo. pic.twitter.com/dGvOSk98KS

— Catriona McAllister (@Catrionamc74) August 6, 2022
Alastair's bronze medal win has also grabbed headlines across the globe.
Alastair Chalmers secures Guernsey's first Commonwealth medal with 400-metre hurdles bronze https://t.co/OgHnW49uj3

— Nybreaking (@Newyorkbreaking) August 7, 2022
Alastair Chalmers secures Guernsey's first Commonwealth medal with 400-metre hurdles bronze https://t.co/4HoFamLM3f

— Sporty Hub (@sporty24hub) August 7, 2022
My favourite part about @birminghamcg22 is seeing the elation of athletes from small nations triumph on the world stage.

Watching Alastair Chalmers win Guernsey's first medal in Athletics over the 400m hurdles.

A moment a country of 60,000 people will never forget!

— Marley Dickinson (@marleydickinson) August 8, 2022
Following Lucy Beere's Silver medal in the bowls earlier in the week, it is now the first time that Guernsey has clock-up two medals at a Commonwealth Games since 1986.
On the closing day of the games, Guernsey sits in 33rd place in the medals table.
Guernsey professional cyclist Sam Culverwell got a top ten finish in the Commonwealth Games road race yesterday (7 August).
He finished in ninth, just 2 seconds behind Geraint Thomas, who came third in the Tour de France last month.
Both were just over 20 seconds adrift of the winner.