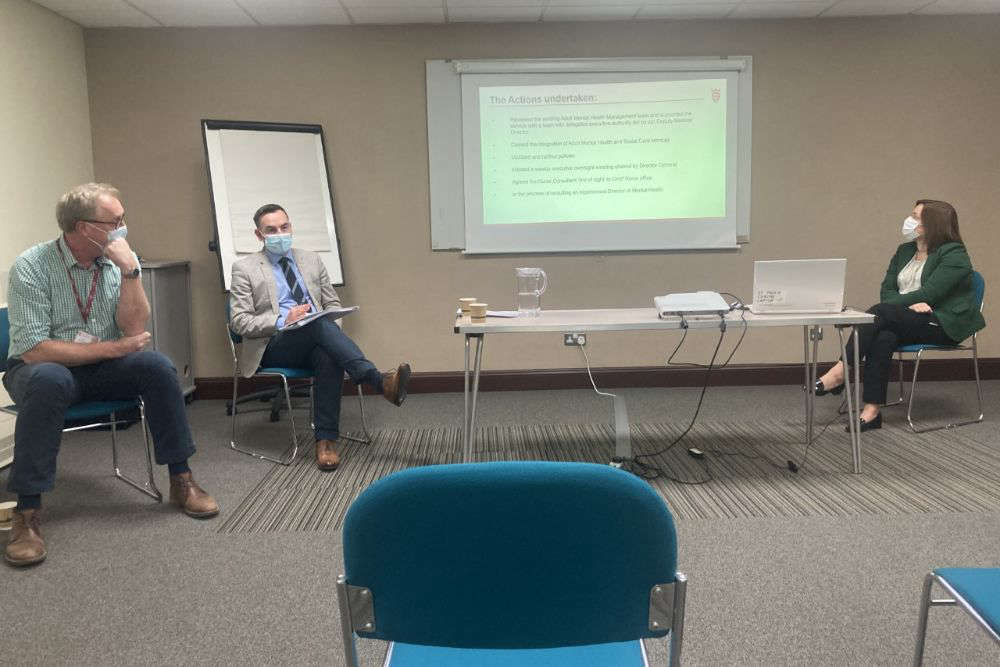 L-R: Medical Director Dr. Patrick Armstrong, Group Medical Director Rob Sainsbury, Director General Caroline Landon
An independent report into adult mental health services in Jersey has exposed a lack of leadership by senior management, and a failure to learn from serious incidents.
The review was commissioned after concerns were raised about the pace of improvement, and because some members of staff didn't feel that many services were working as well as they should be.
It took place over six days from the end of September to the beginning of October.
The inspection did not look at the work of mental health charities, the Listening Lounge, or the worked covered by CAMHS.
It was carried out by clinical psychiatrist Professor Peter Lepping and mental health nurse Simon Pyke.
They pinpointed the main issues as:
A lack of senior management leadership and direction
A lack of multi-disciplinary working
Inadequate systems to learn from serious incidents
Silo working
No system to ratify, manage, and implement policies and procedures
Poor management supervision structures
Ten main recommendations were made, which include:
Reviewing the senior management structure to make sure it's fit for purpose
Making sure mental health nurses and social workers go on community visits
Improving communication to make sure staff feel involved in how services are developed.
Reviewing the model of care in inpatient wards to ensure effective joint working, continuity of care, and to make sure there is a clear emphasis on safety and therapeutic interventions
Considering joining the Royal College of Psychiatrists
The Health Department says it accepts all the recommendations, and has already taken some action, such as:
Halting the integration of adult mental health and social care services until it's considered safer.
Starting the process of recruiting an experienced Director of Mental Health.
Reviewing the Adult Mental Health management team
"There is many really enthusiastic, professional people who really want to push their services on, but it's that communication between those teams; it's the inter-disciplinary working; it's really about bringing all of those people together and creating an environment where they can provide those really good services by working together." - Patrick Armstrong, Medical Director.
Health Minister Deputy Richard Renouf says they are sharing the report's summary and recommendations because they want to be open and transparent and they're 'acutely aware' of the interest in adult mental health services.
"The report was commissioned to provide an important external set of "fresh eyes" as an overview of Adult Mental Health Services.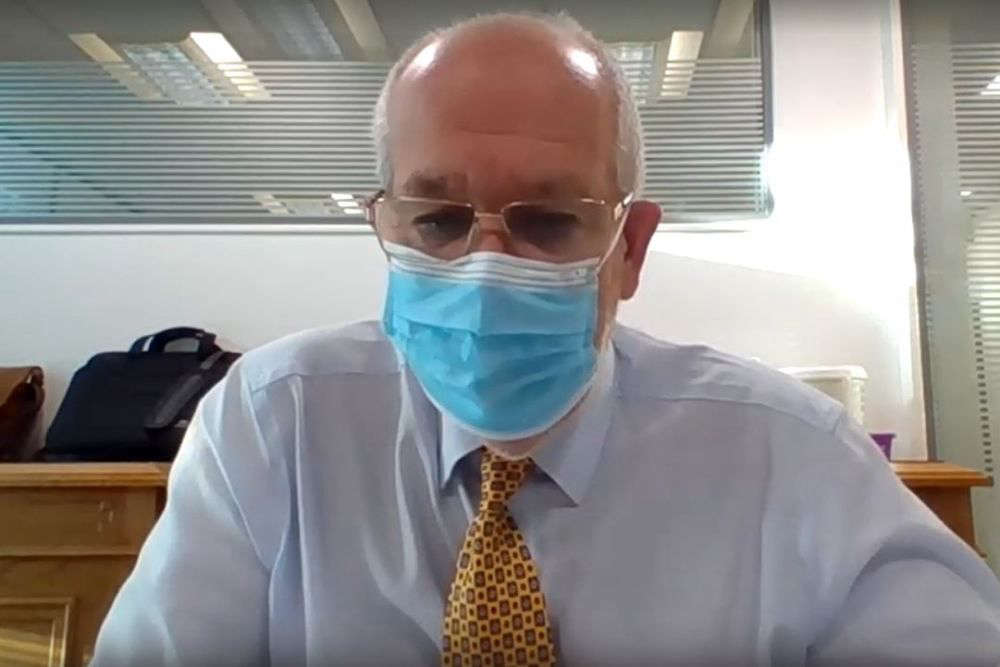 "Importantly, the findings of the report, which identified both positive findings and some areas for improvement are not about culpability or blame. It is about learning and transparency and part of a journey of change. It is good practice which we support, and I commend our staff for engaging with the review so openly and honestly. That engagement is how we ensure we deliver safe care and make improvements in the way our services are run."
The Health Department's second Quality Performance Report, released earlier this week, highlighted the increasing pressures being placed on adult mental health services.
More people are being admitted to Orchard House under the Mental Health law and the length of stay is increasing.
Speaking to Scrutiny, Group Medical Director Rob Sainsbury says this seems to be quite consistent with what is happening in the UK.
"The key indicators we've looked at is that we've seen an increase in admissions given our population. We have also seen an increase in law application, so that is telling us that the number of patients who are coming into the adult unit are also coming in sicker and requiring more intensive care and support and they are then staying longer as well, so you have that triple combination.
"Our community teams are working hard to support that pressure. One of the limitations we are seeing is onward care, so getting patients discharged in a timely manner. The community team and the home treatment team are now working with the acute team in the hospital to see how they can support that additional level of activity, but of course they also have some case-load pressure.
"The Listening Lounge is our front-door and our eyes and our ears, and they are describing some increased activity - particularly relating to housing, employment and some of the wider indicators that are driving anxiety and some exacerbation of our clients who have underlying or severe or enduring mental health illness.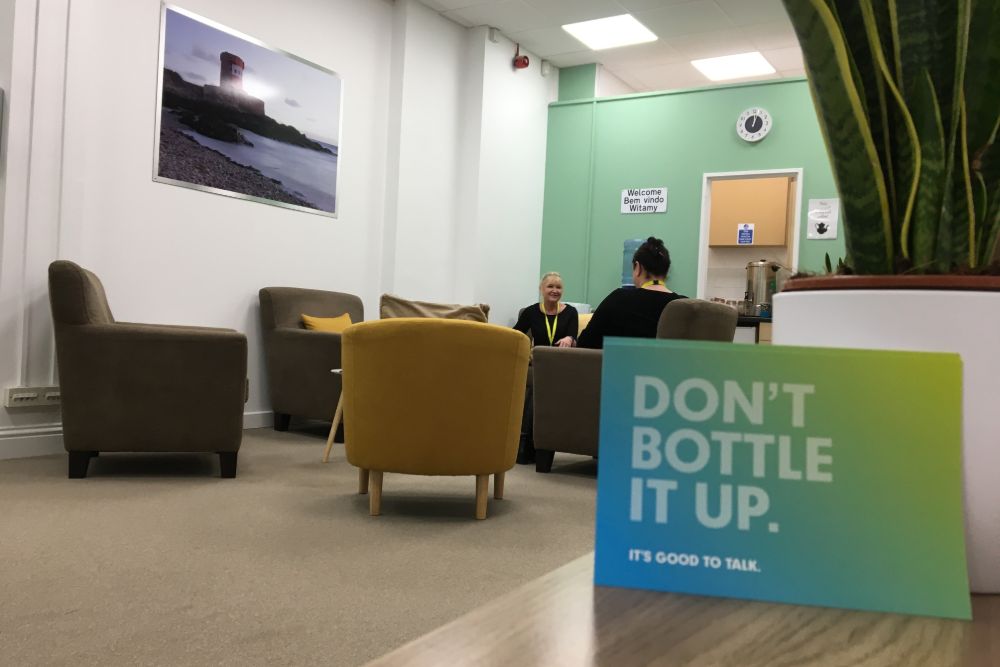 "We are seeing some early indication of a recovery to slightly more normal levels of admission and length of stay within the adult unit, within Orchard House, but we're seeing some continued pressure in the older adult unit, I would say."
Two under 18s were also admitted to Orchard House in September.
Deputy Carina Alves said this goes against best practice, but Mr Sainsbury said they are legitimate and agreed reasons for admission within the unit.
Isabelle Watson, who is the Associate Managing Director of Adult Social Care, said in a Scrutiny hearing last month that there may not be enough money in the government plan to meet the huge demand for mental health support.
Deputy Kevin Pamplin asked in this week's Scrutiny hearing whether a case should be made for extra financial support, given the additional pressures amid the anxious period of winter.
Mr Sainsbury says they have invested.
"We have an extra £4 million into these services.
"The Listening Lounge alone, when we established this service, it was quite a definitive expectation between £150,000 and £300,000.
"The cost of the service is significantly much more than that and we are funding that additional activity and we continue to fund that. They've gone up to around 26 staff, which we have supported in terms of them needing to recruit and that is taking a lot of activity.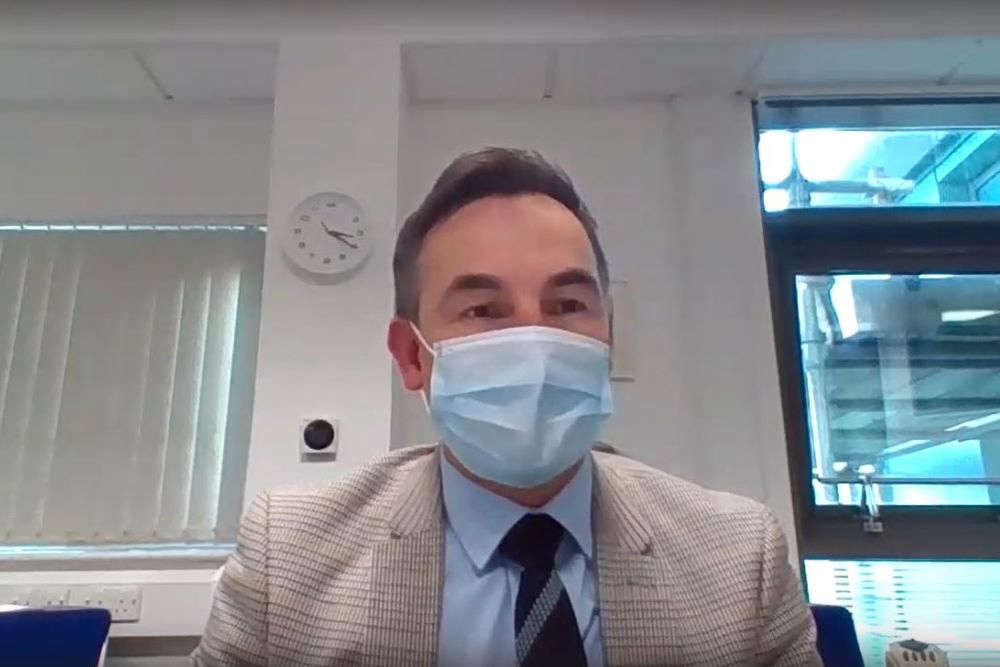 "There is definitely a need for us to ensure we have more capacity in crisis-prevention and the home treatment function, so that's the area that we are focusing on. There is funding within the Government Plan, and what the activity is telling us is that - whilst we have a high level of occupancy on Orchard House and we've seen an increase in law application - we still don't have an inpatient unit that has all of its inpatient activity that is article activity.
"We think that is telling us that there is an opportunity for the community team to work differently. So our plan is to make sure we can have the caseload managed effectively and that we recruit into the right areas with that."
There have been delays to completing the dedicated acute mental health facility at Clinique Pinel.
It was due to be completed in the first quarter of 2022, but the contractors say it can't be finished before September.
The Health Minister says discussions are taking place about why they can't finish within the contractual agreement.