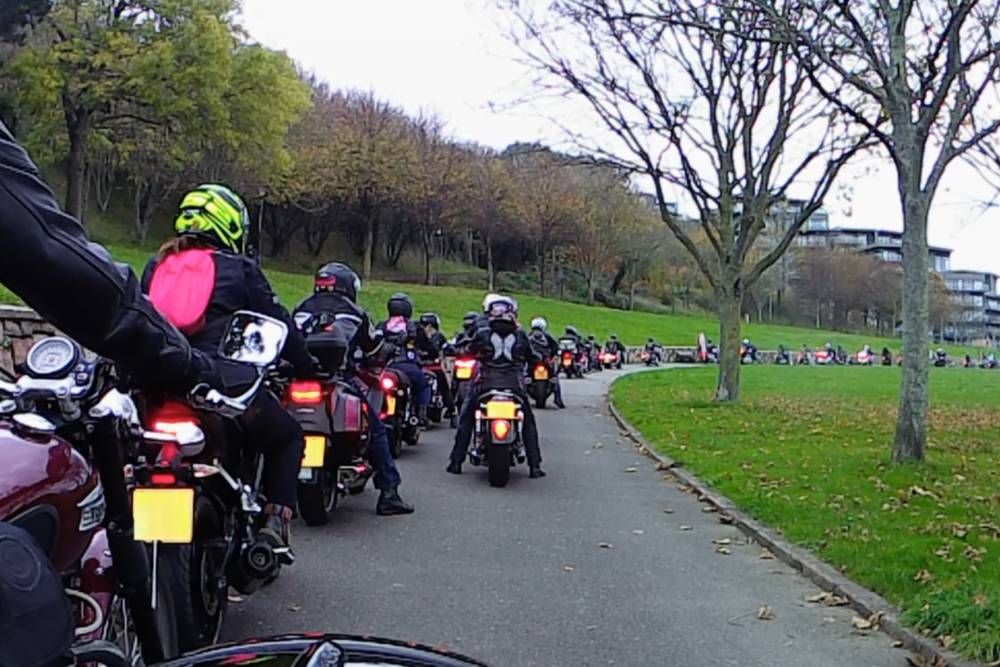 Credit: Steve Blampied
Bikers who take part in a rideout in aid of the Royal British Legion are hoping a procession past the St Helier Cenotaph on Remembrance Sunday will be reinstated next year.
Organisers say they were asked by the Bailiff's Office not to take part on their vehicles this year, amid concerns they detract from the solemnity of the occasion.
They were told they could join the march on foot in their leathers and carrying their helmets instead.
The ride-out - from Le Braye to People's Park - went ahead, raising £1,000 for the Poppy Appeal.
Each of the 200 bikers had donated £5 to take part.
Many people took to social media to express disappointment that the bikes did not pass through the Parade.
Some of the more than 100 comments on a local Facebook page include:
"I waited after the service and was told by an official that your ride-by was cancelled. Very disappointed. You all do such good work raising money for charity. Shame on few complainers.
" -Kathy
"So sad and downright wrong considering how much you do for charity and having many ex-forces in our biking community, I hope this stupid decision is changed next year, you are all a massive and popular part of the parade, feel for use xx" -Sarah
"Bikers always get a bad name, but they do a lot for charities, and a lot of the riders are ex-servicemen, and this is their way of showing respect." -Pauline
Karl Senior, one of the organisers of the ride out, told Channel 103:
"There was an incident two or three years ago where one or two people out of well over 100 motorcycles revved up as they went past the Bailiff, but 99.9% of people that attend this ride understand the sombre occasion of it. They are there to mark respect for veterans and the Poppy Appeal.
"I understand where people are coming from with the noise etc, but everybody I have spoken to, veterans included, were very disappointed to not see the bikes there this year.
"Hopefully, it can be sorted out going forwards, but the main thing is that the charity was well-represented and they got plenty of money towards their cause."