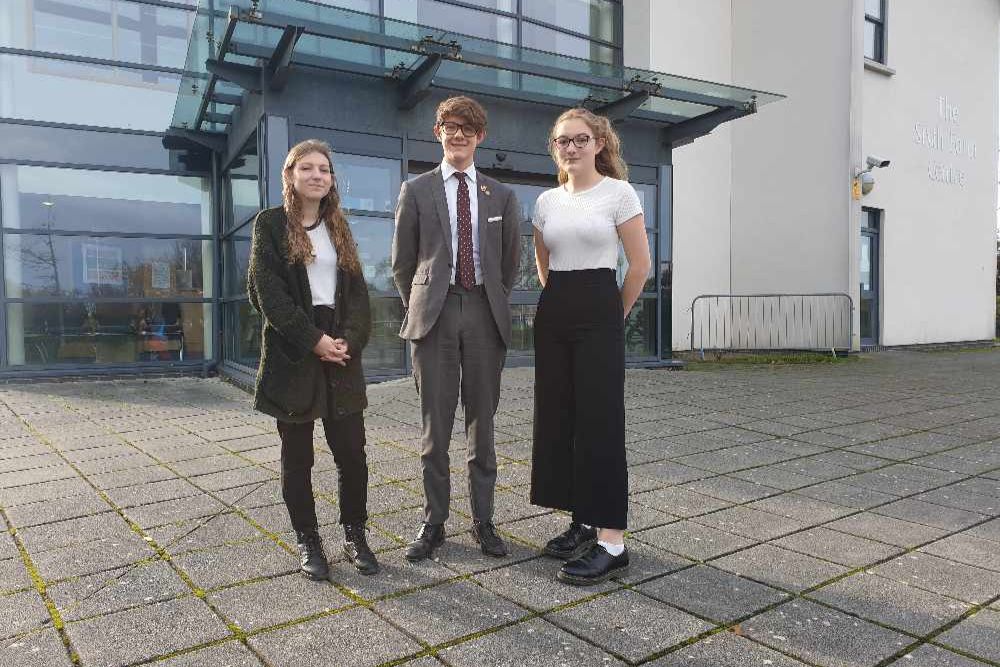 Pictured: Karla Roussel, James Cleal and Charlottle Cleal.
Grammar School students have handed a petition to the states concerning climate change.
Extinction Rebellion contacted the students to show the amount of support making moves against the climate crises with young people.
The students said the group's demands were a bit different to theirs - as they increased the focus on increasing the priority and resources to be given to the deputies to the civil servants working on the climate change action plan, rather than bringing it forward as they believe you need to invest more effort into making the plan right, rather than making it happen faster.
They were able to get the majority of the lower Grammar School to sign the petition which was around 450 students, as well as getting around 100 people from the Sixth Form centre. This means the majority of the students at Grammar signed the petition.
It asks is to keep the climate change issues in people's minds after the walk back in September it is a way of solidifying the demands they want as young people from the States.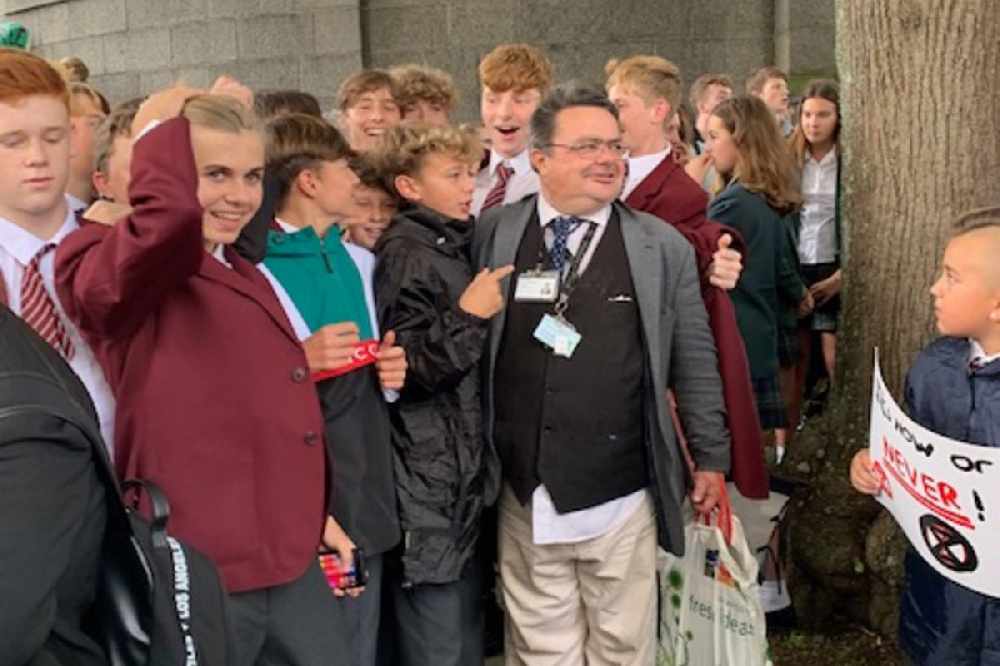 Deputy John Gollop and students from Guernsey Grammar School on their march in September
One of the changes the students are trying to enforce is 'Meaty Mondays' which would hopefully see the schools cafeterias go vegetarian one day a week with the hope that this will help reduce methane emissions.
The students then adding they don't want to dictate to people and tell them what they can and can't eat, and still want to give people the option, as that might cause some issues.
However, they are wanting to encourage more people to eat less meat to create fewer methane emissions which are a major part of the global greenhouse gas emissions.
Their first move will be to approach the student leadership team at Grammar, to work alongside them to start the movement at their school, and if it goes well they would possibly see if the other states schools would like to get involved and possibly start a school committee between the other schools to see if they would like to implement it.
"It isn't about being perfect, it's about everyone making small changes which will hopefully make a big change if we all do it together," says James Cleal, a Year 13 student.
As they are only school students they are only teenagers and pointed out that a lot of people their age are trying to do their part to help the climate change movement, and the same effort is being put in by quite a few adults.
However, they have seen a lot of backlash and have said that someone of their team is thinking of holding a climate change debate, it would be public and will allow people to question the issue, hoping it could educate more people on climate issues.